Saturday, August 22nd, 2009
---
2:29 am
- I'm a BA!
That's right, you read that title correctly
Sunday, October 14th, 2007
---
8:58 pm
- Columbus People
Expect me to be down sometime this month... it will be a Wednesday night until Friday night thing.

current mood:
annoyed
Sunday, October 7th, 2007
---
8:50 pm
- Dreamcast Games
Alright, so I've been trying to find ways to keep myself entertained and I've been looking up the best of the best Dreamcast games. Anyone have any to add to this list?

Bangai-O
Grandia 2
Jet Grind Radio
Power Stone 1
Power Stone 2
Rez
Samba di Amigo
Seaman
Shenmue
Skies of Arcadia
Sonic Adventure
Sonic Adventure 2
Space Channel 5
Thursday, September 13th, 2007
---
11:17 pm
- Who else is excited for...
Friday, September 7th, 2007
---
1:37 pm
- Deliverance People!
Monday, July 16th, 2007
---
12:28 pm
- Moving Again!
So I'm moving blogs again. I have my website, http://www.layer8apps.com, that I never use for anything so I turned it into a personal blog. Feel free to check it out if you want.

current mood: accomplished
Tuesday, July 10th, 2007
---
9:56 am
- Gonna get you, like a space boy!
So tomorrow is the day I head out. After work I'm starting my 14 hour drive to North Carolina to pick up Rebecca. I imagine it's going to be fun. Probably a bit tiring, but fun nonetheless. I went to bed at 11 last night, and I'm going to try to do the same tonight as well. Hopefully that'll help keep me awake.

current mood:
cheerful
Monday, July 9th, 2007
---
10:36 am
- I love my family
My family is awesome, they're always willing to help each other out in a pinch. My sister, who at the age of 15 is apparenetly much more money-conscious than I, is going to loan me the money I need until Friday!

current mood:
excited
7:34 am
- Help?
So I've got my ticket thing figured out, it's not due until Friday and I'll just call in and pay over the phone since I don't get paid until then. My biggest concern though is that I miscalculated last week with my rent being a week off and my insurance going through on the same week as my car payment, so I have almost no money. Normally it wouldn't be a problem except I'm supposed to drive down to North Carolina on Wednesday afternoon so I can pick up Rebecca. I need to come up with right around $100 for gas money to get down there. Anyone have any ideas?

current mood: awake
Thursday, July 5th, 2007
---
4:32 pm
- FUCK!
Today has just been a piss poor day. I woke up tired as all hell, barely able to stay awake on my way to work. Finally get to work, remember I have absolutely no money to my name right now and I forgot to bring a lunch for the day, sat around doing nothing except one simple report. Around lunch time I drove home to grab something to eat, and upon arriving I remember that we haven't actually had any real food in our house for about a week now and I've been living off of pop tarts and cereal. So I grab the last pop tart out of the box and then drink a quick glass of milk before heading off to work again. Work goes by drudgingly slow and I make plans for the evening (which I'm guessing will fall through, that's just how my day has gone).
So work finally ends, after what seems like forever, and I goto the theaters to get a shift switch. I practically have to beg someone to switch with me and she finally does (thankfully) and then I head home. On my way home, I rolling stop the right turn at Douglas and Sylvania and proceed to get pulled over. On top of that, I forgot my license plate expired last month, so that's another ticket. I now owe $206 to the state of Ohio all because I'm an idiot. The best part? Well let's see..
Check from Brent: $309
Check from Theaters: ~$50
Rent payment: -$100
Ticket payment: -$206
Car insurance: -$145
So that puts me at -$92. Oh yeah, let's not forget to add in my negative bank account because I fucked that up too. My current bank holdings are -$77. So all in all, I'm at -$169. I'm a fucking genius aren't I?

current mood:
pissed off
8:35 am
- The Fourth
The fourth was interesting. Worked until close and then went to BG with Rebecca and some friends to the Sky Bar. I was not informed that it was goth night at the bar, but that didn't matter, because it was foam night there as well. The entire dance floor was filled with soapy bubbles that, at time, were up over my head. It was awesome.
Oh yeah, and my phone won't turn on...

current mood:
tired
Tuesday, July 3rd, 2007
---
12:15 pm
- Cloverfield
If you've seen Transformers, remember the trailer that was before the movie that showed the head of the Statue of Liberty getting thrown around and random things blowing up? Well it seemed interesting from that teaser, so I did some research. Apparently the name of the movie is called Cloverfield, that's pretty much all that's known about it (and that's possibly just a working title). It could be about an alien parasite that invades, but that's just rumor. I'm curious now...

current mood:
curious
11:20 am
- Vista
So I installed Vista on my laptop to see what it's like and see why everyone seems to hate it so much.
To be honest I don't see anything wrong with it. Sure the interface is a bit different and they moved some of the key features, but that's really nothing. This is one of the reasons I don't read up on computer articles or things like that. I get tired of hearing the "leet" people talk about their opinions on software (which is normally some Linux user who automatically thinks they're better than anyone who uses Windows) and how much Microsoft sucks. Then, so that they'll sound intelligent and seem to know what they're talking about, everyone else jumps on the bandwagon from the one article. Then the world hates Microsoft.
Really I think people are just afraid of change. They don't want to have to spend the time to get used to a new operating system, even though the features in it are nice and actually can help save time and such.
When XP came out, it was the same way. The interface and all that jazz had people upset about why everything changed. I'll admit it, I was the same way, but after using it for awhile you realized how good the system really worked.
Almost all of the fancy features can be turned off if you don't want them to annoy you, and most of those features aren't for you people who don't need them. They're for the people who are computer illiterate and don't really understand how computers work. It's to protect them from having so many issues.
I just felt like rambling, and that seemed like a good topic, bye!

current mood:
calm
8:04 am
- More Than Meets the Eye
Transformers was absolutely amazing, you have no idea unless you've seen it. SO BADASS!
Also, if all rap was this hilarious, I would listen to it all the time I think.


current mood:
amused
Wednesday, June 27th, 2007
---
2:59 pm
- My Job Rocks!
My hard drive died on Thursday last week while at work. My boss used that as an excuse and now work has completely comped my new 100 GB hard drive!

current mood:
amused
12:51 pm
- Crap
I just realized that my big paytime is coming up and I owe almost $500 in the next two weeks. That means I won't be doing anything but cleaning my car tonight because I can't afford the extra fluids I'll need.

current mood:
sad
9:20 am
- 3, 2, 1, Let's Jam!
I feel so re-energized finally! I've been so tired for the past week that it's been ridiculously easy to just dose off while doing anything. So yesterday when my plans fell through, I took about four hours worth of naptime for myself. Then I went to bed around 12:30.
Now I'm so ready to take on anything, I'm not falling asleep at work, I feel wonderful, and I can't wait to go home and do some car work today. Today I'm doing the following:
- Flush and fill the transmission
- Flush and fill the coolant
- Flush and fill the power steering
- Wash the car
- Possibly flush and fill the brakes
I've heard that the brakes can be a pain and that you have to be really careful when doing them so as not to get air into the brake line, so I'm a bit nervous about that. The other ones I don't think are too bad, I'm googling them today to see what kind of process is required for them.

current mood: awake
Tuesday, June 26th, 2007
---
7:44 am
- Oh yeah!
Sorry for the really large image but I had to format and don't have access to Photoshop yet. I'm still figuring out the exact way my camera works so it's hard to read, but that certainly says July 2, 2007 at 8:00 PM! I'll see it before then, I just really wanted a ticket.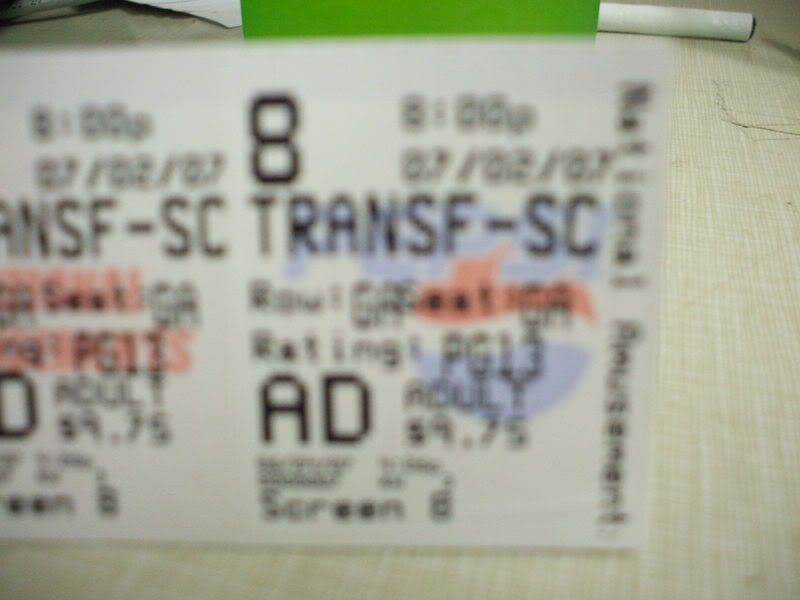 current mood:
ecstatic
Monday, June 25th, 2007
---
8:13 am
- Oh so tired...
I'm exhausted. Rebecca and I watched Pan's Labrynth last night and it was not at all what I expected. That ended about 1 AM and I took her home, came home and crashed . I woke up this morning and could barely lift my arms to turn on the light. I'm so sore from actually doing work this past weekend (I worked on my car).
Besides the phone thing, which I've pretty much gotten over, I'm doing well. Friday there was some problem at the plant out back and I didn't have to come in, so I worked out at my moms for $33/Hour. I should definately go into freelance computing.
Saturday I went up to Temperance for an Eclipse meet. I was nervous at first because I don't really know a lot about cars, but the people there were cool and they also helped me change out my remaining motor mounts. The two transmission mounts weren't even connected to the sealant around the side. My back engine mount is still not fixed because the actual casing for the mount shattered somehow, so hopefully one of the memebers has one lying around the house somewhere.
Then we watched Evan Almighty. It was ok, not as good as Bruce, but still ok. Steve Carrell did a good job, but it seemed like he had lost most of his natual self.
Anyways, Sunday I had the phone ordeal and then I played some Magic with Scott and Felicity before watching the movie at night. That's my weekend, now to finish out my week.

current mood:
tired
Sunday, June 24th, 2007
---
12:32 pm
- *#$#*%&
Ugh, you caught me at just the wrong moment. I've been a bit busy lately and it's been good, but this morning has just not been a good morning. It hasn't been a bad morning, but I had a plan on how the morning would go and I get frustrated when my plans get messed up.
My plan was to work from 9:15 until around noon, go get my new phone, come home and examine my new phone, finish sorting out all of these Magic cards, goto Target so I can get some new clothes with my gift card, and then figure out what to do from there.
Well after work, I went to Cingular, had to sit for 20 minutes because they weren't open, and when I finally got inside the lady told me that we hadn't actually upgraded our plan yet. So I called my mom and asked her, and sure enough, they hadn't upgraded yet. It's not really that big of a deal, but again it screwed up my plan. I also am in dire need of a new phone since mine is lucky to hold a charge for 12 hours. They want to use the online system to upgrade our plans meaning I won't be getting a new phone for probably two more weeks. Again, not so bad except I've actually been looking forward to getting a new phone for quite some time now.
So now I'm sitting at home, upset that my plans were changed and there's nothing I can do about it, and I don't even want to finish my list of my original plan... gah, I hate when things go awry.

current mood:
aggravated